Scaffolding base jack
Supply Capability:
5000pcs/week
Trade Terms:
Ex UAE warehouse
Payment Terms :
TT in Advance
Certification :
Conform to BS standard
Ref Price
100pcs (Min. Order Quantity)
The Adjustable Base is used with all scaffold systems and some formwork systems.
The adjustable base is made of 4mm thick pipe, 38mm outer diameter with threading with rolling machine which has a nut restraint to ensure the stem always has a minimum engagement into the Standard of 150mm.
38mm hollow rod with base plate 150X150X6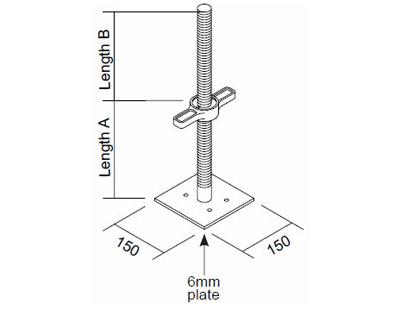 | | | | |
| --- | --- | --- | --- |
| Size (mm) | Length-A (mm) | Length-B (mm) | Weight(kg) |
| 650mm | 500 | 150 | 3.8 |
| 750mm | 600 | 150 | 4.1 |
Packaging
As per your requirement
After Sales Warranty
N/A

Sinopro Service Pledge
Quality Product
Order On-Line Tracking
Timely Delivery

Sinopro Service Pledge
Credit Rating
Credit Services
Credit Purchasing

Sinopro Service Pledge
427+ Categories
2800+ Suppliers
200+ Brands
Related Products