Scaffolding U head jack
SALE
Offer valid from 01/06/2020
Supply Capability:
2000pcs/week
Trade Terms:
Ex UAE warehouse
Payment Terms :
TT in Advance
Certification :
Conform to EN standard
Ref Price
100pcs (Min. Order Quantity)
The Adjustable U-Head is used with scaffold systems & formwork systems.
It has a hollow stem of 38mm nominal diameter which has a nut restraint to ensure the stem always has a minimum engagement into the Standard of 150mm.
The U-Head is capable of accepting twin 100mm wide bearers.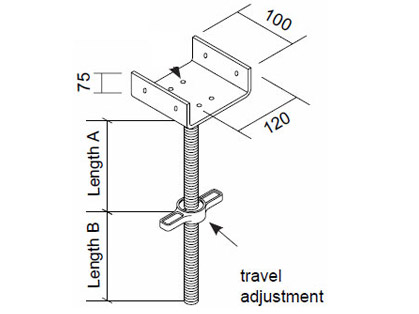 | | | | |
| --- | --- | --- | --- |
| Size (mm) | Length-A (mm) | Length-B (mm) | Weight(kg) |
| 650mm | 500 | 150 | 3.8 |
| 750mm | 600 | 150 | 4.1 |
Packaging
By pallet,As per your requirement
After Sales Warranty
N/A

Sinopro Service Pledge
Quality Product
Order On-Line Tracking
Timely Delivery

Sinopro Service Pledge
Credit Rating
Credit Services
Credit Purchasing

Sinopro Service Pledge
427+ Categories
2800+ Suppliers
200+ Brands
Related Products