YWR-435 Stereoscopic Modified Bitumen Waterproof Membrane
Supply Capability:
100000sqm/month
Payment Terms :
TT in Advance
Ref Price
7.5 (Min. Order Quantity)
The "Three-dimensional Colorful Sand Covering" production line of BNBM Yuwang is a newly developed high-efficiency automated production system from the raw material blending and sand-covering surface and pattern controlled by computer. The three-dimensional colorful modified asphalt waterproofing membrane produced by the company. "The filament polyester felt is used as the carcass. After dip coating high quality SBS modified asphalt compound, it adopts the international leading professional production technology, and is coated with polyethylene film on one side and covered with colored mineral particles. Graphic, colorful three-dimensional decorative effect covering. It is an upgraded product of traditional waterproofing membranes and asphalt shingles. It is the latest international waterproofing material that integrates roof decoration, waterproof, energy saving and consumption reduction functions.
According to physical and mechanical properties, it is divided into type I and type II.
Thickness/mm             4.0                5.0   
Width/m                                1.0
Length/m                     7.5               5.0 
Product Features
●The decoration is strong, the color is colorful, and it can be arbitrarily matched with the color of the outer wall.
●The three-dimensional sense is strong, the text, the pattern and the shape are various, the lines are elegant and
bright, and the three-dimensional feeling is very strong.
●Convenient construction, good waterproof effect, integrated waterproof and decorative functions, reducing construction procedures.
● Easy maintenance, greatly reducing the overall cost of construction and maintenance costs
Scope of Application
Waterproofing and decoration of slope roofs for industrial, civil and military (hidden) buildings

Construction Method
The hot-melt method is adopted, before the construction, the base layer treatment agent (full-adhesive method)
should be evenly applied, and then the elastic direction of the construction direction should be determined to
determine the position of the coil material, and the coil material is unfolded at the position of the elastic line to release
the stress. The coil is rolled from the two ends to the middle, and the hot melt adhesive of the bottom of the coil is
baked with a flame spray gun, and the coil is laid from the middle to the both ends, and the paving is compacted by a
press roll to remove air, so that the coil is adhered to the base layer. The knot is firm, the lap joint should overflow the
hot-melt modified bitumen, the lap joint of the color rock surface should be grit-treated, the detail node should be
additionally treated, and the lap joint and the head end should be sealed.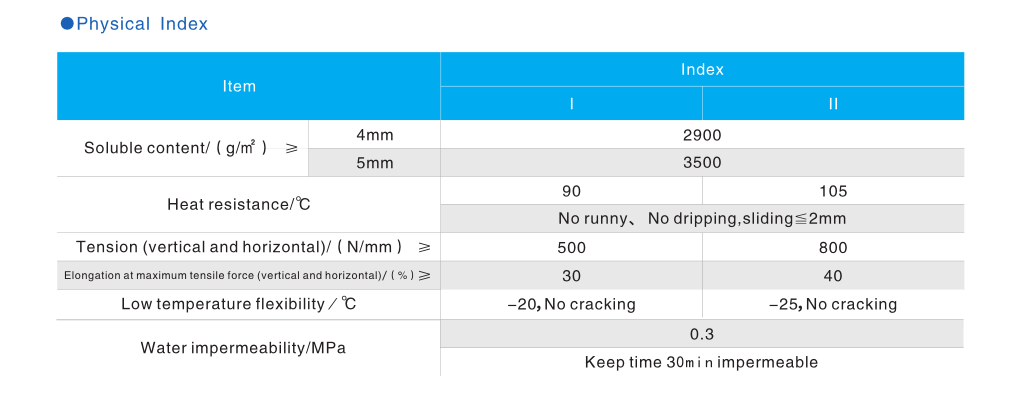 Packaging
After Sales Warranty
Warranty:5 years
After-sale Service:Online Technical Support
After-sale Service:Onsite Installation
After-sale Service:Onsite Training
After-sale Service:Onsite Inspection
Project Solution Capability:total solution for projects
Place of Origin:CN

Sinopro Service Pledge
Quality Product
Order On-Line Tracking
Timely Delivery

Sinopro Service Pledge
Credit Rating
Credit Services
Credit Purchasing

Sinopro Service Pledge
427+ Categories
2800+ Suppliers
200+ Brands
Related Products