M-3 Adhesive Special for Polymer CompositeM-3 Adhesive Special for Polymer Composite Waterproof Membrane
Trade Terms:
FOB china port
Payment Terms :
TT in Advance
Ref Price
1000 (Min. Order Quantity)
Product Introduction
It is a polymer redispersed rubber powder (referred to as M-3 rubber powder) specially developed according to
the characteristics of polymer composite waterproofing membrane. It is made of organic, inorganic and other
monomers. It is non-toxic, harmless and non-polluting. It is a super concentrated building rubber powder with ultra-
high viscosity and super strong bonding strength. The polymer cement waterproof glue prepared by mixing the rubber
powder and the cement is used for bonding the polyethylene polypropylene coil material, and has certain waterproof
function.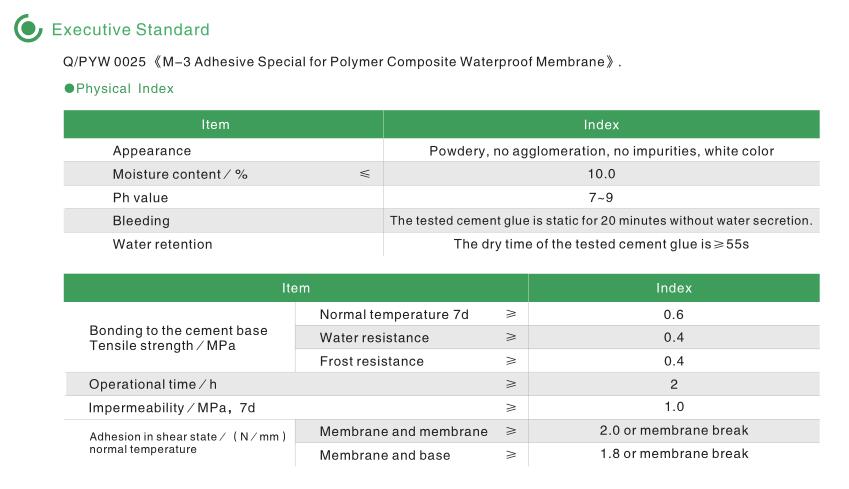 Packaging
After Sales Warranty
Packing
Closed package of iron barrel,8 bags/carton .
Aftersales
Online technical support/Onsite Installation/Onsite Training/Onsite Inspection
Warranty
five years

Sinopro Service Pledge
Quality Product
Order On-Line Tracking
Timely Delivery

Sinopro Service Pledge
Credit Rating
Credit Services
Credit Purchasing

Sinopro Service Pledge
427+ Categories
2800+ Suppliers
200+ Brands
Related Products