Scaffolding spigot pin
Supply Capability:
5000pcs/week
Trade Terms:
Ex UAE warehouse
Certification :
Conform to EN standard
Ref Price
50pcs (Min. Order Quantity)
Made out of 300/250 mm long round or square tube. Spigots are used for connecting Cuplock Standards vertically.

The Spigot can be used in both Ring Lock and Cup Lock Systems.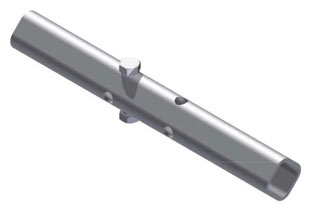 Cuplock - Spigot Pin with Bolt & Nut
The Pipe of Hot Rolled Steel as per BS-1139 Standard. Made from Pipe of 38mm OD X 4mm and height is 300mm, Available with a pair of Bolts and Nuts.

Packaging
In wooden box or bags
After Sales Warranty
N/A

Sinopro Service Pledge
Quality Product
Order On-Line Tracking
Timely Delivery

Sinopro Service Pledge
Credit Rating
Credit Services
Credit Purchasing

Sinopro Service Pledge
427+ Categories
2800+ Suppliers
200+ Brands
Related Products