CMAX brand standard mast section L68B1 (with Potain General) Tower crane spare parts
Supply Capability:
10000sets/month
Trade Terms:
FOB china port
Payment Terms :
TT in Advance
Our company is a full range of OEMs specializing in the manufacture and manufacture of various types of tower cranes, which are also derived from tower crane structural parts, tower crane standard sections, chip standard sections, embedded legs, attached frames, tower crane parts, etc. Manufacturer company.
The standard sections of production are divided into two major product sequences: the overall standard section and the slice standard section.
The chip standard section uses the same process as Potan, which is used in the production of tower cranes by the company and is also fully versatile with the Potan Standard Section.
According to the product size is divided into:
(1.6M*1.6M*3.0M)L46A1(2.0M*2.0M*3.0M)L66A1,L68A1,L68B1,L68B2,L68B1+,L69B1
Independently developed a large-scale CNC boring and milling integrated special processing center, using pre-tooling welding forming, shot blasting treatment, to eliminate welding stress, aging treatment into the processing center for one-time processing, to ensure the accuracy of each piece of processing High, realizes the obstacle of 0 interchangeability per piece per piece!
At the same time provide other brands of large tower crane standard section service!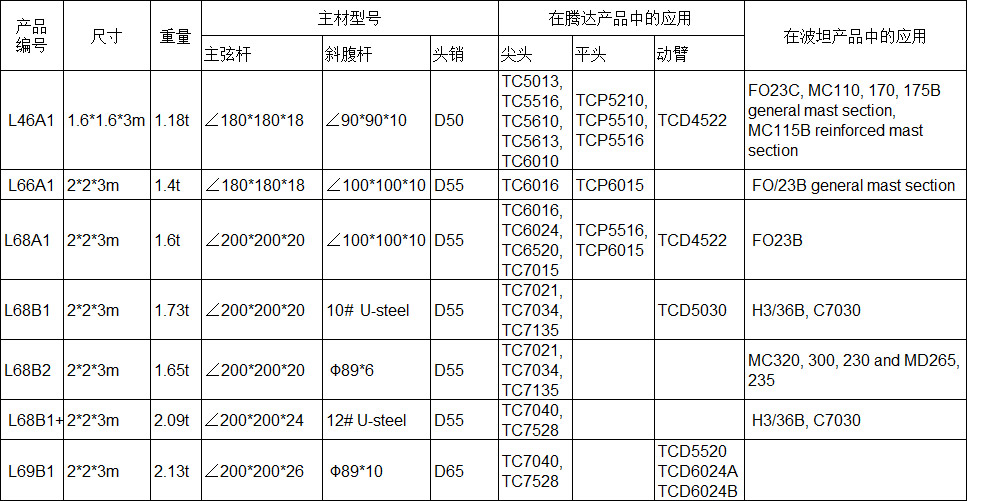 Packaging
Nude in the containers
After Sales Warranty
N/A

Sinopro Service Pledge
Quality Product
Order On-Line Tracking
Timely Delivery

Sinopro Service Pledge
Credit Rating
Credit Services
Credit Purchasing

Sinopro Service Pledge
427+ Categories
2800+ Suppliers
200+ Brands
Related Products