Multifunctional Building Hoist
Supply Capability:
2000 units per month
Trade Terms:
FOB china port
Payment Terms :
LC sight or Usance LC
Ref Price
1 (Min. Order Quantity)
Product Description:
Description of CAMX Building Hoist SC200/200
The Multifunctional Hoist in such super high-rise buildings as the hyperbola cooling tower and the high chimney of the power plants, can carry workers, concrete and the long reinforcing bars. The hopper fixed by four pin rolls under the cage and the long reinforcing bars transportation system can be removed conveniently. In addition, we also manufacture multifunctional building hoist SC200 (single cage, with loading capacity of 2000kg), SC160/160(double cages, with loading capacity of 1600kg/1600kg), SC160 (single cage, with loading capacity of 1600kg).We also manufacture other styles according to the client's special requirements.
 We has passed ISO9000 quality system authentication. We have powerful R&D centre and professional customer support team. Excellent quality and service are what we actually supply with.
Features of CAMX Building Hoist SC200/200
It is applied to carry workers, concrete and long reinforcing bars in construction of high-rise buildings, especially for power construction fields like high chimney, hyperbola cooling tower, bridge and dam. Since we launched multifunctional hoist, they have been adopted in construction of over 60 power plants inChina. The highest chimney they worked for reaches to 270m, and the highest cooling tower reaches to 140m. 
Our multifunctional hoist has replaced traditional methods for construction of cooling tower and high chimney which together use goose-neck jib tower crane and windlass, and because it is installed inside of cooling tower for transporting of workers and materials, no another curve hoist is needed outside. So multifunctional hoists greatly reduce equipment demands and maintenance costs. Besides, our multifunctional hoist is praised for its friendly design that users can conveniently disassemble the transporting system of concrete and reinforcing bar, transferring it into a normal hoist.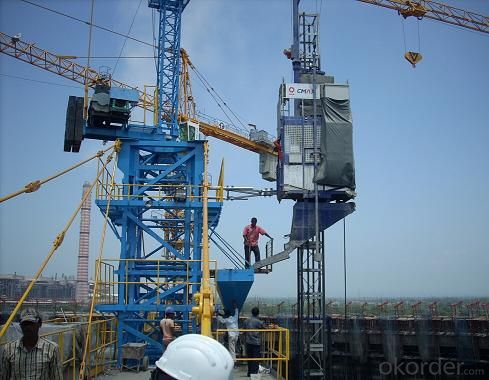 Lifting capacity

2000kg/2000kg

Lifting speed

33 m/min, 38m/min, 0-60m/min (VVVF+PLC), 0-90m/min (VVVF+PLC)

Max. lifting height

400m

Capacity of concrete hopper

0.5m3/0.5m3 (1.5T/1.5T)

Capacity of Rebar carrier

600kg/600kg

Max. length of the transported rebar

9~12m

Lifting speed of erection crane

6m/min

Motor type

Chinese motor or SEW motor

Anti-drop safety device

With our patent

Cage size (L x W x H) 

3.0x1.3x2.5m, 3.2x1.5x2.5m

Mast section

650x650x1508mm, 800x800x1508mm, hot dip galvanized or painted

Anchor

distance 6-9m, hot dip galvanized or painted

The whole machine can be designed according to your specific requirements
Packaging
Nude
After Sales Warranty
12 months

Sinopro Service Pledge
Quality Product
Order On-Line Tracking
Timely Delivery

Sinopro Service Pledge
Credit Rating
Credit Services
Credit Purchasing

Sinopro Service Pledge
427+ Categories
2800+ Suppliers
200+ Brands
Related Products